Traffic accidents can be pretty scary and there is always a potential for serious injury. But when the ponderous weight and high velocity of a large truck are added to the incident, the potential for catastrophe increases dramatically.
Accidents involving 18-wheelers, big-rigs, and large delivery trucks invariably cause greater amounts of damage. Therefore, the law requires those that own and operate these large machines to take out much higher insurance policies to cover the seriousness of a potential accident. Still, it will be necessary to retain the services of an experienced Milledgeville truck accident lawyer to obtain your rightful compensation.
If you or someone you know has been injured in a truck accident, it is imperative that you seek expert legal counsel. Call Bethune Law Offices at 4048757800 right away and arrange a FREE consultation with our qualified personal injury attorneys.
What Should You Do After a Truck Accident?
The aftermath of an accident brings shock, confusion, and emotional distress. This is, of course, compounded in an accident with a much larger vehicle. If you have been involved in an accident it is essential that you do all you can to protect your interests and strengthen your claim for compensation.
Here is what you need to remember in the event of a truck accident in Milledgeville, Georgia:
Call 911
The first thing to do will be to get emergency services on the scene as soon as possible. The officers arriving at the accident will make a report that plays an important role in the case that will be assembled. Make sure you stay at the scene long enough to speak with the arriving officers and have yourself examined by the paramedics.
Help Others
If you see that your injuries permit you mobility, see what you can do about helping the other victims of the accident. Remember that truck accidents are far more dangerous due to the increased size of fuel tanks and the potential for hazardous materials being transported. Exercise extreme caution!
Exchange Info
Get the name and contact information of the truck driver and as well as the company they are working for and the insurance provider covering the truck.
Document the Scene, Speak with Witnesses
The more evidence you collect from the scene of the crime the stronger the case will be. Take out your cell phone and begin getting some wide-angle shots of the two vehicles, the scene of the accident, and traffic signals in the area. Then take some close-up pictures of the damage that was done, point of impact, and injuries. If there is road debris and skid marks get some pictures of this as well.
Seek Medical Attention
Even if you feel that your injuries are not that serious, you will want to get a full medical examination. A medical professional will be able to check for injuries that are not always easily apparent in the wake of an accident.
Contact an Attorney
If you hope to file a claim against the at-fault parties for the injuries you have received in a truck accident, it is imperative that you seek professional legal counsel. A legal representative will be able to handle the details of this affair while you focus your mind and efforts on making a full recovery.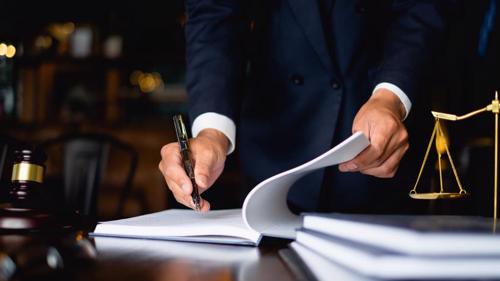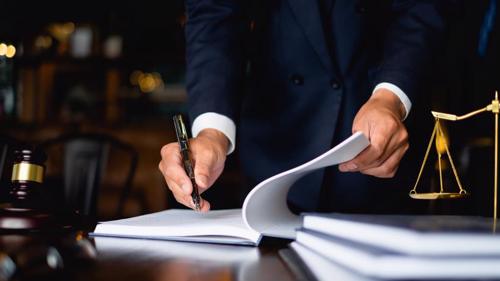 What are the Laws Regarding Truck Accident Liability?
It is important to note that there is no limit to the compensation that can be sought for pain and suffering in a personal injury case. Because of the serious damage that can be caused in a truck accident, this information is important. Truck companies and their insurance providers will do all they can to avoid having to make these payouts.
Because Georgia follows the concept of modified comparative fault, one of the best ways to reduce the amount of payout for accident victims is to implicate the victim as partially responsible for the accident. But so long as the victim is less than 50% responsible for the accident, they will still be able to collect a modified compensation. The amount of compensation will be reduced by the amount of responsibility they played in the events leading to the accident.
How Can a Truck Accident Lawyer Help?
Because the opposition will stop at nothing to minimize their responsibility in the events that occurred you will need an experienced ally to battle on your behalf. Your talented truck accident attorney from Bethune Law Offices will not only increase the value of your compensation but increase the likelihood of a successful outcome.
Here are some of the key tasks your truck accident lawyer will perform:
Conduct A Thorough Investigation
Truck accidents are especially complex. It may seem obvious who is at fault, but things are never so easy. Your legal professionals will perform an in-depth investigation to see who is responsible for the accident.
Filing a Claim
A lawsuit is a very detailed legal action and for best results should be compiled and filed by a professional who has done this work before. A qualified personal injury lawyer will ensure that the proper time constraints are observed, the full compensation is listed and the at-fault parties are precisely listed.
Negotiations
Most often, the case will be settled through negotiations with the opposition. This is where the opposition will do their best to minimize their responsibility and reduce the amount of payout, they owe the victim. This is where a talented truck accident lawyer will protect your interests and ensure you receive the compensation you deserve.
Litigation
Even though it is best for all parties involved to work things out through negotiations, there is still a chance that a resolution will not be reached and the case will have to be taken to courts. In such a case, your talented truck accident lawyer has prepared the case to take to courts and will ensure that your case is given the respect it deserves.
File Your Claim With a Milledgeville Truck Accident Lawyer
Truck accidents can carry catastrophic and long-lasting consequences. If you have been faced with such a tragedy, it is time to take a stand for your rights with proper legal representation. At Bethune Law Offices, our auto accident lawyers operate with the contingency fee plan, meaning you will be charged nothing for our top-notch legal services until we win the case and get you the compensation you need. If you are ready to begin your quest for full compensation, call 4048757800.