Distracted drivers are some of the most dangerous in the state of Georgia. There have been many deadly accidents in Macon GA due to the actions of such drivers. When a driver fails to pay attention to the road, it not only endangers his/her life but the lives of many others. Distracted driving increases the risk of accidents by a factor of 23 as per a study conducted by the Virginia Tech Transportation Institute.
When you or someone in your family is injured in a distracted driving accident, you need the best legal representation in Macon GA to claim compensation for your damages. Proving the negligence of the at-fault party is crucial to getting the maximum benefits for your injuries. That's where a Macon distracted driving accident lawyer comes in handy. Bethune Law Firm is your trusted partner to handle your distracted driving accident case in Georgia.
Our law firm has been litigating cases for Georgians injured by negligent drivers since 1997. We provide a free consultation session to discuss your case and see if you have a viable negligence case. Call our car accident attorneys today for all your injury claims needs in Georgia.
What is Distracted Driving?
The legal definition of distracted driving is maneuvering the vehicle while doing some other activity that takes the attention of the driver away from driving the vehicle. The act can increase the risk of motor vehicle crashes. In fact, anything that takes attention away from driving is a distraction. For example, talking on a cell phone, sending a text message, consuming food, adjusting the stereo, talking to passengers, watching a video, grooming, and using a navigational system are some of the examples of distracted driving.
Types of Distracted Driving
There are three different types of distracted driving such as:
Visual
Taking the eyes off the road. Visual distraction is the most common type of distracted driving. When a driver takes his/her eyes off the road even for a split second, he or she loses his/her focus. This type of distraction is dangerous because the driver can't assess his/her surroundings with this type of distraction. Some examples include looking at the GPS, looking at a passenger, looking at the entertainment center, and looking around instead of ahead.
Manual
Taking the hands off the steering wheel. A manual distraction is when the driver takes his/her hands off the wheel for whatever reason. Without both hands on the wheel, the driver's reaction time steering ability suffers. Some examples include eating, smoking, drinking, taking off the coat, adjusting the temperature, getting something from the purse, or grooming.
Cognitive
Taking the mind off the drive. Cognitive distractions are quite dangerous because the driver may look like he or she is doing everything right. Even if you have the eyes on the road and the hands on the wheel if your mind is drifting, it can be dangerous. When you are thinking about something else, it's hard to focus on driving the vehicle. You are not alert and safe under such circumstances. Some examples include having a conversation on a hands-free device, talking to another passenger, daydreaming, listening to a podcast, or keeping the mind occupied by other issues.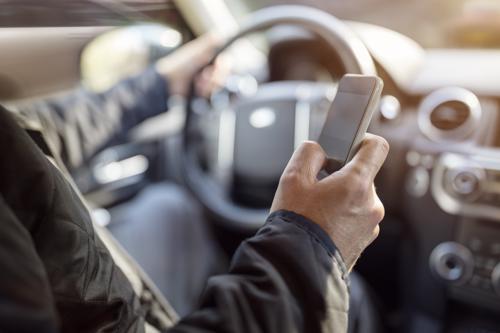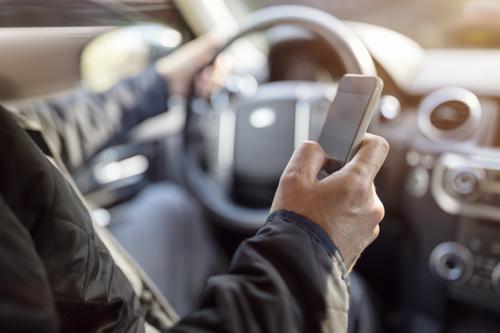 Georgia's Distracted Driving Laws
Georgia's distracted driving law states that while operating a motor vehicle on any highway of the state no person shall:
Physically possess or support with any part of his/her body a: wireless telecommunication device, a stand-alone electronic device
Write or send any text-based communication including instant messages, text messages, emails, internet data, use GPS systems, or a voiced-based telecommunication device
Watch any movie or video on a wireless telecommunication device or standalone electronic device
Record or broadcast video on a wireless device and standalone electronic device
What Damages Can You Get From A Distracted Driving Accident Claim in Macon?
If you or someone in your family is hurt due to the actions of a distracted driver in Georgia, you can claim compensation for your damages. You can recover financial compensation for your injuries through a distracted driving accident lawsuit. You can claim economic, non-economic, and punitive damages depending on your ability to prove the negligence of the at-fault party.
Economic damages include medical bills, lost wages, and property damages. Non-economic damages are somewhat difficult to compute but may include loss of consortium, emotional distress, suffering, pain, and anxiety. Punitive damages are awarded by the judge or jury if the at-fault party has behaved irresponsibly and recklessly in causing your injuries. You need to work with a professional distracted driving accident lawyer at Bethune Law Firm to claim maximum compensation for your injuries.
How Long do I Have to File a Claim?
The statute of limitations come into effect in Georgia after two years. That means you have two years from the date of the accident to file your lawsuit and claim compensation for your damages. If not, you won't be able to file a case due to the statute of limitations.
Why do I Need a Lawyer?
There are many benefits of hiring a reputable and experienced personal injury lawyer to handle your distracted driving case. They have extensive experience in gathering evidence and preparing your case in the most effective way to obtain the maximum benefits for your injuries. Bethune Law Firm is your trusted partner in Macon, GA, to handle your personal injury lawsuit.
We have extensive experience in taking cases to trial and winning the maximum possible benefits for our clients. We will first try to settle the case out of the courtroom by negotiating with the insurance company of the at-fault driver. If not, we will take your case to trial and get you the maximum benefits that you rightly deserve.
Contact a Macon Distracted Driving Accident Lawyer
Are you injured due to the fault of another driver? Distracted driving is a crime in Georgia. Our personal injury lawyers will help you obtain maximum benefits by representing your distracted driving accident lawsuit. Call Bethune Law Firm at 4048757800 today for all your distracted driving accident lawsuits in Macon.