Vehicle accidents happen every day in Georgia. But there is nothing worse than a hit and run case. Georgia law specifies that motorists involved in accidents should stop and exchange their contact information with the other driver. Not complying with this rule is considered a serious crime. If you or someone in your family is involved in a hit and run case, you need a reputable and experienced Macon hit and run lawyer to represent your case.
Working with a reputable and experienced lawyer is crucial to the success of your lawsuit. These professionals have represented similar clients in the past and are highly specialized in handling your case. They know how to negotiate with insurance providers and can help you get the required medical attention. Professional hit and run lawyers can help you get faster compensation for your injuries.
If you are looking for a reliable car accident lawyer in Macon, you don't have to look further than Bethune Law Firm. We are a trusted name in the region for all your personal injury lawsuits. Call Bethune Law Firm right now to handle your hit and run lawsuit.
What Should You Do If a Driver Hits You and Leaves the Scene?
Being involved in an auto accident is stressful. But the problem worsens when the driver of the other vehicle drives away from the scene of the accident turning the whole thing into a hit-and-run case. Here are some things that you need to do when a driver hits you and leaves the scene:
Record Any Evidence
The first thing is to take notes. Record all the details you can remember about the other vehicle – the make, model, license number, color, and any damage to that vehicle. There might be witnesses to the accident. Make sure you talk to any witnesses to the scene and take down their contact information. You can ask them if they saw the other vehicle and write down the information they give you. Don't forget to take photos of the scene.
Remain At the Scene of the Accident
Don't chase the other vehicle even if your car is in good condition. It could be dangerous to chase the other vehicle without knowing the actual reason why they fled the scene. For example, the driver can be armed or involved in some other illegal work. Your chase can end in another crash. Hence, stay where you are and call the police.
Get a Copy of the Police Statement
The next step is to record a police statement. Provide all the information you know about the other vehicle to the police so that they can find it soon.
Call Your Insurance Company
The final step is to call your insurance company and inform them about the accident. Contacting your insurance provider will help with your claim in case the other vehicle is currently missing.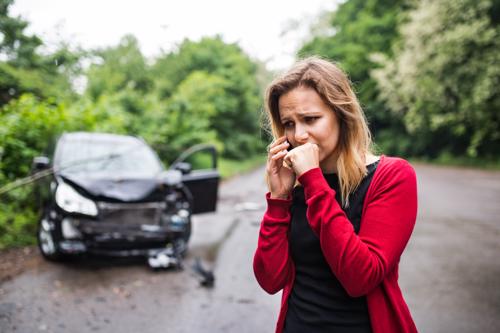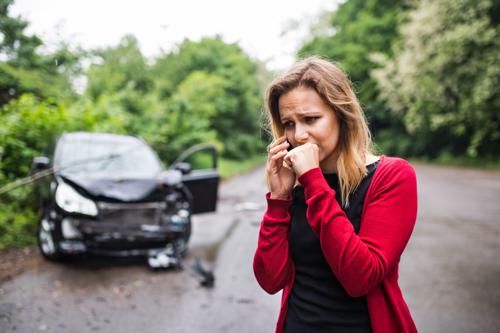 Hit and Run Statistics in Georgia
Georgia ranks fourth in the United States for the number of hit-and-run accidents with severe injuries. 72 people died as a result of hit-and-run crashes in 2016. On the other hand, more than 20% of pedestrian deaths are due to hit-and-run accidents. There were almost 260 pedestrian accidents in GA in 2017.
Why Would A Driver Leave the Scene After an Accident?
An individual involved in an auto accident can react negatively due to confusion, guilt, and fear. Most hit and run drivers have been doing something illegal while the accident occurred. For example, they might have been driving the vehicle without a license or driving under the influence.
However, leaving the scene of the accident is illegal and has negative consequences. When a person leaves the accident scene after a collision, he or she might face stronger charges even if he/she was not at fault.
What Damages Can Victims Get From A Hit and Run Accident Claim in GA?
Not every driver will get away after leaving the scene of an accident. If the hit and run driver is apprehended by the police, you can file a hit and run case to claim damages from the at-fault party. In case the hit and run driver isn't apprehended by the police, you may have to claim damages from your own insurance company.
There are three types of damages that you could claim from the at-fault party's insurance provider:
Economic – Economic damages are awarded to cover medical bills, lost wages, and property damages.
Non-economic – Non-economic damages are difficult to quantify such as pain, suffering, and emotional stress after the accident.
Punitive – The court will award punitive damages to the victim if the at-fault driver is found to behave irresponsibly and recklessly.
How Long do I Have to File a Claim?
Georgia's statute of limitations gives you two years from the accident date to file the claim. If you don't file the lawsuit before the stipulated time frame, the statute of limitations will come into effect and make it impossible to file the case.
Why do I Need a Lawyer?
When you or someone in your family is involved in a hit and run accident in Macon GA, you should work with the best hit and run lawyer in town. There are many benefits to hiring the right attorney to handle your case. They will help gather information from witnesses and prepare your case in such a way that it gets you the maximum compensation possible.
A reputable and experienced lawyer will negotiate with the insurance company to settle the case out of courts. If not, they will take your case to trial to get you the rightful compensation that you deserve. Professional representation is crucial to the success of your hit and run case in Georgia.
Call Our Macon Hit and Run Lawyers Today
When you are injured due to a hit and run case in Georgia, you need to hire a professional personal injury lawyer from Bethune Law Firm. We are a trusted name for all your personal injury cases. Call Bethune Law Firm at 4048757800 right now to handle your hit and run lawsuit.