If you or a loved one sustained injuries or fatalities from a head-on collision accident caused by another driver, you could be eligible to sue them and ask for compensation. Call Bethune Law Firm and speak to a highly qualified and dedicated Macon head-on collision lawyer and discover the best way to handle the lawsuit. We know that money cannot be enough to cover your losses, pain, and suffering. Nevertheless, we shall be committed to ensuring that you receive the maximum compensation that can help make life a bit better for you and your family.
We are a law firm that has more than twenty years of experience in handling compensation claims. As such, we know the tricks insurance companies employ when trying to avoid paying claims. Therefore, allow our car accident lawyers to represent you as you seek justice against those responsible for your injuries and losses.
What Injuries Are Most Common In A Head-On Collision?
The impact of a head-on collision will stop the forward motion of the vehicle involved in the accident. But inertia will have anything not permanently fixed inside the car traveling at the same speed before the crash. That is why these things, including people, are thrown forward and crash into the dashboard, windshield, steering wheel, or any other surface, sustaining injuries. Also, pieces of glass, plastic, and metal, as well as other unsecured items, are propelled forward, becoming projectiles that can injure the vehicle's occupants during a head-on collision.
While modern vehicles are fitted with various safety features, such as seatbelts and airbags, injuries and fatalities happen when cars collide, especially when traveling at high speeds. The injuries can lead to other health problems or worsen if they are not treated. Some of the injuries associated with a head-on collision accident include:
Neck Injuries
Neck injuries are often associated with rear-ending accidents. However, they also can occur in a head-on collision. Whiplash is one of the possible neck injuries the accident victim might sustain. It could be painful and slow to heal.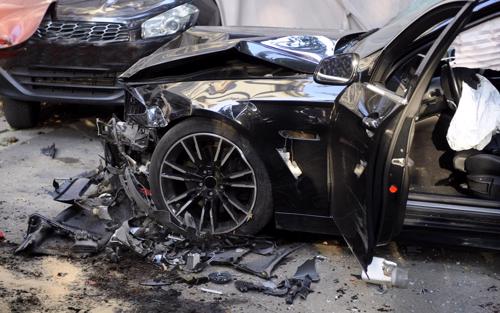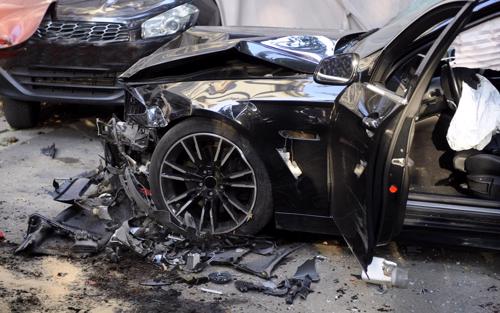 Torso Injuries
We have handled many cases of people getting injured at their torsos, with the ribs, lungs, and spleen being the commonly affected areas. A torso injury can potentially lead to liver damage. If the injury is not pronounced, it might go undiagnosed and progress into a fatal health problem.
Femur And Lower Leg Injuries
Femur and lower leg injuries happen when a person is propelled forward by the collision's force into the vehicle's knee bolster or instrument panel. At times, the low torso from the hips towards might not sustain significant damage, but the lower limbs and extremities could be injured by the airbag's force when they deploy.
Secondary Injuries
Head-on collision accidents can, at times, result in overarching health problems that are mostly secondary injuries. They are conditions that evolve from the injuries sustained in the accident that go untreated or exasperate during recovery. Some of the issues include infections and other health complications.
What Are The Common Causes Of A Head-On Collision?
Data from America's National Highway Traffic Safety Administration, head-on collision accidents are mostly linked to the following:
Speeding, which is illegal and highly dangerous, especially in poor weather and road conditions
Road rage, which is attributed to unchecked anger and aggression
Reckless and negligent driving
Operating a vehicle while tired and sleepy
Failure to head road safety signs
What Damages Can A Head-On Collision Victim Claim In Macon, GA?
Determining which damages to seek can be a complicated process, especially given such facts and the severity of a head-on crash, and the subsequent injuries or losses. The attorney assigned to your case will investigate the matter to ensure that we pursue apparent, extensive, and measurable damages, taking into consideration the costs of factors such as:
Emergency medical care at the accident scene
Transportation costs to the hospital
All surgeries (present and future) and physical therapy sessions
Ongoing care, taking into consideration hospital appointments, specialty treatment, and care
Prescribed medications
In-home care and any home adaptations and adaptive medical equipment required
We also will consider the pain, trauma, and anguish you and your family suffered because of the head-on crash. We know that the accident will have an adverse impact on you financially, physically, and emotionally. Therefore, we will be committed to ensuring that those responsible for the accident are held accountable for their negligent or reckless actions, and you are fairly compensated for your woes.
How Long Do I Have To File My Head-On Collision Claim In Macon?
It is wise to secure your chances of getting full compensation by speaking with a Macon, GA, head-on collision lawyer here at Bethune Law Firm as soon as possible after the accident. We recommend doing so because the details of the incident are fresh in the minds of all who were involved or witnessed the crash.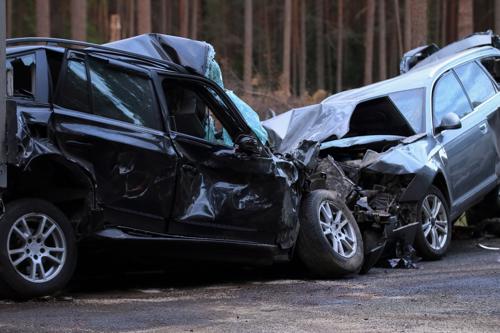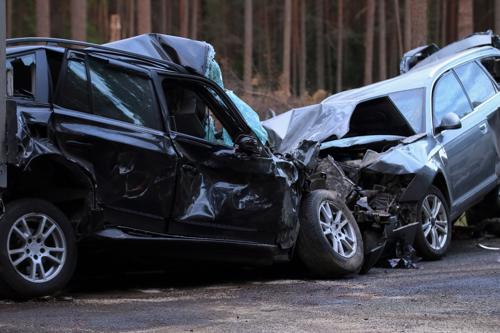 Moreover, it gives us enough time to recover evidence and conduct sufficient investigations before filing the claim. Please note that Georgia's statute of limitations is two years from the time of the accident. Therefore, you must act swiftly to ensure that things are done correctly and you do not miss the deadline for filing your case.
Why Do I Need An Experienced Macon Head-On Collision Lawyer?
For starters, personal injury ligation is grueling. It can be a challenging process at times, even for seasoned lawyers. That is why going at it alone is not advisable, especially when facing insurance companies and their legal representative. Hiring a reputable and experienced attorney will help even the playfield, and it is a move that ensures that your rights and interests are well represented.
After reaching out to us immediately, we shall evaluate your case (at no charge) to determine it is worth pursuing. From then on, we shall handle all the necessary legal aspects of the matter. That means we will do case preparation for out-of-court negotiations or taking the matter to trial. We also will prepare all the required documents for filing a lawsuit.
Our legal experts shall negotiate with the insurance providers on your behalf for a fair settlement while ensuring those responsible for the accident are held accountable for the injuries and losses you sustained.
Let Bethune Law Firm Be The Legal Team That Helps You Win
Do you need expert legal guidance and representation for your head-on collision lawsuit? We at Bethune Law Firm are ready to help you seek justice and ensure you are fully compensated for your injuries, losses, and the pain you suffered because of the accident. Call us today at 4048757800 to speak to an accomplished Macon personal injury lawyer and schedule a free case review. You also will be advised on what you should do to ensure that you secure your right to fair compensation.