In the state of Georgia, burn victims can claim compensation for their injuries due to negligence. The amount that you can claim depends on a number of different factors such as the extent or seriousness of the burn injury as well as the expenses or losses that were incurred as a result of the injury. To learn more about your claim contact our Macon burn injury lawyers.
A victim of burns can claim for immediate expenses as well as those that may arise in the future. For example, where skin grafts are necessary and the process could take months or even years to complete. Also, burn victims are unlikely to make a full recovery from their injuries which increases the amount that they can claim in compensation.
To find out more about burn cases and how you can begin the process of claiming compensation from a negligent party, contact our personal injury lawyers on 4048757800.
Classifications Of Burn Injuries
It is important to understand the classification for different burn injuries and how these define the severity of the injury as well as how it may affect a personal injury claim. Burns are classified according to how deep they penetrate the layers of skin. There are four classifications for burn injuries:
First Degree Burns
These burns are superficial and only affect the upper layer of skin which is called the epidermis. The burn site is red, dry, and painful with no blistering such as sunburn or scalding with hot water.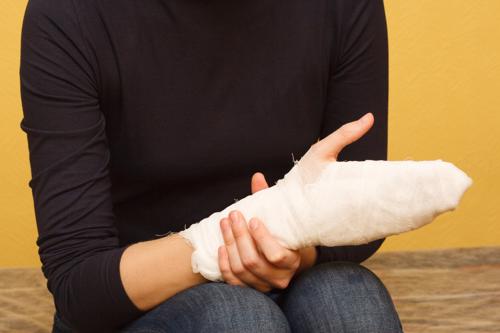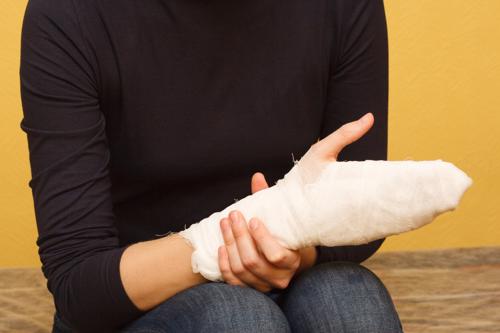 Second Degree Burns
Second-degree burns affect both the epidermis and the dermis (the layer of skin below the epidermis). Also referred to as partial-thickness burns, these burns result in painful, red, blistered skin that may or may not be swollen.
Third Degree Burns
These burns destroy the epidermis and dermis penetrating to the subcutaneous layer of fatty tissue which is located directly beneath the skin. Also referred to as full-thickness burns, the burn site may appear white or black and charred. No immediate pain may be evident as the nerve endings are destroyed by the burn. However, these burns become extremely painful and the ability of the skin to heal and grow back is severely limited.
Fourth Degree Burns
These destroy the epidermis, dermis, and subcutaneous layer to penetrate into deeper tissue such as muscles, tendons, organs and so on. Extremely serious fourth-degree burns may penetrate as far as the bone. The burn site may appear white or charred black depending on the cause of the burn. The burn wound may be open and appear as if the skin has melted. Commonly, these burns are not as painful as all nerves have been destroyed.
It is more common to claim compensation for third and fourth-degree burns. However, if a first or second degree burn has resulted in medical expenses or loss of income, claims can be made for these losses no matter how mild the burn.
What Damages Can You Recover For A Burn Injury In Macon, Georgia?
Damages are classed into three different categories under which you can recover damages in Georgia. These three categories include:
Economic Damages
Economic damages to which an exact monetary value can be assigned including medical expenses, loss of wages and damage to property. Both past and future damages can be included in the claim.
Non-economic Damages
Non-economic damages to which no exact monetary value can be assigned such as emotional distress, pain and suffering as well as the inability to take part in certain activities. The amount awarded for these claims is usually at the discretion of the court but can also be calculated according to the severity of the burn injury and the impact it has had on the victim's life.
Punitive Damages
Punitive damages are normally awarded where the liable party is found to have been malicious or willful in causing the burn injury. While the damages do benefit the victim, they are aimed at punishing the liable party in the hopes of preventing them from repeating the behavior that caused the injury in the first place.
It is recommended to contact a personal injury lawyer at Bethune Law Firm to establish which types of damages can form part of your claim for a burn injury.
How Is Negligence Proven In A Burn Injury Claim In Georgia?
There are four elements that must be proven in accordance with Georgia personal injury law in order to establish negligence:
First it must be proven that the liable party had a duty of care to the victim. Duty of care is the moral or ethical requirement to ensure the wellbeing and safety of others.
Second, the liable party must be shown to have been in breach of duty of care. In other words, they did not take the necessary measures to ensure the safety and wellbeing of others.
Third, evidence must be provided to show that the breach of duty of care resulted in the burn injury.
Fourth, the victim of the burn must be shown to have experienced losses or damages as a result of the injury.
Common Causes Of Burn Injuries
The majority of burns are caused by direct contact with an open flame or scalding (burns resulting from skin contact with a hot or chemical substance). Most of these burns are likely to occur in the home. Car and work-related accidents also contribute to a large percentage of burn injuries.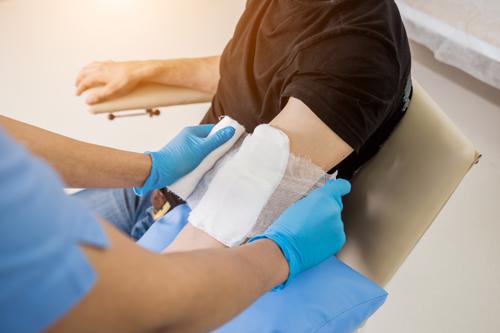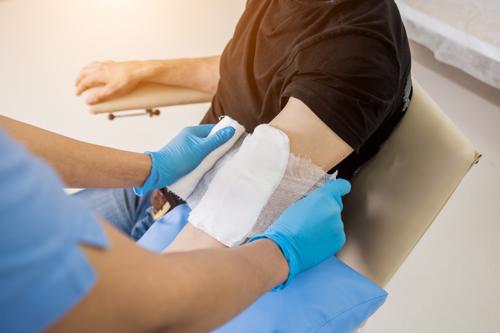 Common causes of burn injuries include:
Faulty electrical wiring in homes.
Motor vehicle accidents.
Workplace accidents (including electrocution and chemical burns)Smoking.
Accidents in the kitchen or while cooking.
Children without adult supervision playing with fire or materials that present a fire hazard.
How Long Do I Have To File A Burn Injury Claim In Macon, GA?
There is a two-year statute of limitations on filing claims to recover damages resulting from a burn injury in Georgia. You therefore have to file your claim within 2 years of the date of the incident or accident that caused the burn.
What Does It Cost To Hire A Macon Burn Injury Lawyer?
Burn injury lawyers work on a contingency basis. This means that whether they get paid is contingent on (depends on) whether they win. If they don't win the case, they don't get paid. Normally, a contingency lawyer will collect a percentage of the total settlement or compensation awarded by the court when the case is over.
Schedule a Free Consultation With the Bethune Law Firm
Burn injuries can have severe, life-long consequences and can set victims back physically, mentally, financially, professionally and in other areas of their lives. While seeking compensation for these losses will not change these consequences, it can make life significantly easier and aid in the recovery of a burn injury victim.
To ensure that you receive sufficient compensation for your burn injury so that you can focus on your recovery, let Bethune Law Firm in Macon, Georgia handle all your financial issues. Give us a call on 4048757800 today to schedule a free consultation so that we can start the process of filing a claim for the losses that you have suffered.