As car accident attorneys in Atlanta, Georgia, we hear from many people who are confused about their rights, their responsibilities, and what they should do in the hours and days following their Atlanta, GA car accident. Should you speak to the other driver's insurance company? Who will pay your medical bills and vehicle damage? How should you go about proving fault? How much should you be paid as compensation? First, remember to breathe. Stay calm, and do not try to get everything done in a day. Second, consider contacting an experienced car accident lawyer in Atlanta, GA if you feel you may be due a settlement. In the meanwhile, consider our list of car accident dos and don'ts.
What to Do After a Car Accident in Atlanta, Georgia
Do: Call your insurance company and inform them of the accident. Informing your own insurance company about the accident can help to make the claims process smoother, especially if the other driver tries to avoid responsibility or denies coverage. If you do not notify your own insurance company that you have been in a car accident, it can result in problems with your coverage.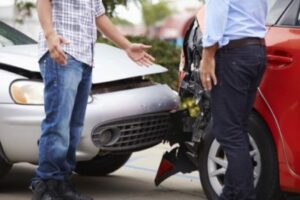 Do: Seek medical attention if you may be injured. If you believe you may have sustained an injury in the accident, even if it seems minor, seek medical attention as soon as possible, either from your family doctor or from the emergency room. Not only can some injuries not show symptoms for several days after the accident itself, delaying medical treatment may give an insurance company an excuse to deny your claim. If you do not have health insurance, an emergency room cannot turn you away, but you will need to pay for your care eventually. If costs are a factor, an urgent care clinic can be a less expensive option. If you are in pain following a car accident in Atlanta GA, whatever route you take, seek medical attention as soon as you can, and don't simply hope for the best.
Do: Start gathering evidence right away. If you are able, use your cell phone to take photos of the vehicles involved, any damage that was done, the scene of the car accident in Atlanta, GA, and any other details like skid marks or road debris. You should also get a copy of the accident report, which will be available within 5 days following the accident.
Do: Contact a car accident lawyer in Atlanta, Georgia as soon as you can. No matter how careful you are, it is easy to say or do something within the first few days following an accident that can irreversibly harm your case. Most car accident attorneys in Atlanta offer a free consultation, and Bethune Law is no exception. It is advisable to at least speak with a lawyer before you make a decision to proceed on your own or not. This is doubly true if you have been injured in the accident, particularly if you're still experiencing pain a week after the crash. Contact the Bethune Law office and speak with a knowledgeable car accident attorney in Atlanta GA today.
What Not to Do After a Car Accident in Atlanta, GA
Do Not: Give a statement to the insurance company of the other driver. Within a few days of the accident, you may be contacted by an adjuster or representative for the other driver's insurance. You do not have any duty to talk to them, and if you do, they may try to ask you questions to throw you off guard.
Do Not: Hire any doctor or car accident lawyer in Atlanta, GA that contacted you after the car accident. Any doctor or lawyer that contacts you out of the blue after you have had an accident is committing a crime. This practice is called running, and it is only done by doctors and lawyers who can not get work any other way.
Do Not: Expect to be wealthy after your auto accident settlement in Atlanta, Georgia. Compensation in car accident cases is for real injuries. They aren't lottery tickets or get-rich-quick schemes. Though we see six-figure settlements fairly often as car accident attorneys in Atlanta Georgia, the reality is most of this money is provided to cover medical costs, lost wages, and other damages. Large settlements, furthermore, are typically only awarded to seriously injured defendants – and they would happily trade the sum for their health back.
Seek Legal Guidance from an Experienced Atlanta Auto Accident Lawyer Today
If you have been in a car accident in Atlanta GA, consult with a seasoned car accident lawyer. Get in touch with our team at  Bethune Law today.