Getting injured in an accident can change your life. Aside from the pain of the personal injury itself and the difficulty of recovery, injuries can leave you upset, confused, depressed, anxious, and in no small amount of financial trouble. The US Centers for Disease Control recently reported that there are more than 30 million visits to the Emergency Room made every year for accidental injuries, and of these, around 130,000 prove fatal, leaving the families of the victims devastated, lost in the wake of a loved one who was, quite literally, here one moment and gone the next.
Personal injury claims in Atlanta, Georgia are lawsuits brought against the people or entities who are responsible, or at fault, for the injuries incurred. Such claims can be brought by the victim of the injury themselves or by a family member in the event that the accident is fatal. These personal injury claims exist to assist the injured and their loved ones by reimbursing them for any medical costs, wages lost due to the injury, pain and suffering and more.
Here at Bethune Law of Atlanta, GA, our personal injury attorneys have helped thousands of injured victims just like yourself to recover the benefits to which they are entitled. We understand that the law associated with personal injury claims is complicated and that it's easy to feel overwhelmed after any kind of accidental injury. Our law firm is made up of experienced personal injury lawyers helping Atlanta, GA residents by providing compassionate, attentive, and individual representation to people injured in a car crash, slips and fall accident, workplace-related mishap, and more. If you have been injured and are looking for more information on personal injury cases in Georgia, look no further than this guide.
What Should I Do If I Suffer from a Personal Injury in Atlanta?
No one expects to be in an accident that leaves them in need of extensive medical attention. Unfortunately, accidents do occur every day and millions of people are finding themselves in just this position. If you are injured in an accident, there are several important actions you should pursue immediately: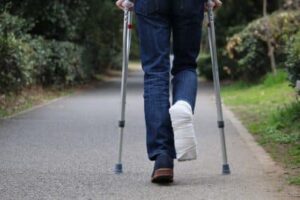 Seek medical attention.

Anytime you have been injured in an accident; the first step is to seek medical attention. Many injuries may not seem serious at first, but become painful and debilitating later. Moreover, if another party is at fault in your accident, delaying treatment can provide an excuse for a claim to be denied.

Consult a personal injury lawyer in Atlanta GA.

If you are injured and someone else may be at fault, you should consult with an experienced Atlanta, Georgia personal injury attorney as soon as possible. Nearly all personal injury lawyers offer a free consultation, so you have absolutely nothing to lose by allowing an attorney to review your case.

Document all damage and your injuries.

Make sure to get copies of the accident report from the police if applicable, and document injuries yourself with photos and notes. This is another area where seeking prompt medical attention is recommended – it creates a compelling paper trail documenting your injuries.

Do not sign anything or speak to anyone without talking to your personal injury attorney in Atlanta, GA first.
The Common Types of Injury Claims in Atlanta, Georgia
There are many different circumstances which can and do lead to injuries, and there are different types of personal injury claims for each situation. Here are some of the most common types of personal injury claims we see as injury attorneys in Atlanta GA.
Slip and fall injuries:

Just like the name sounds, if you slip and fall on someone else's property due to hazardous conditions, you may be able to recover compensation from the property owner or tenant.

Car accidents:

Perhaps the most common cause of personal injury claims.

Defective or malfunctioning products:

Products that do not include adequate warnings or do not work as intended can sometimes cause injuries and their manufacturers can be found liable for those injuries

Injuries at work:

Another common personal injury claim in Atlanta, GA. These accidents usually are the domain of workers compensation law, but on occasion, there is a valid personal injury claim.

Dog bites:

If you were bitten by someone else's dog, the owner might be liable for your injuries.
Consult with an Atlanta Injury Attorney Today
If you have had an accident and have injuries you believe were caused by someone else's negligence, contact Bethune Law today and speak to one of our experienced Atlanta, Georgia personal injury lawyers.