The law in Georgia protects all road users if another party's negligence causes them to suffer harm. Whether you were injured in a speeding, head-on collision, or rollover accident, if the injury was not your fault, then you are entitled to financial compensation for the pain and financial loss you have endured as a result. The highly motivated and experienced lawyers at Bethune Law Firm are ready to assist you with your rollover claim.
Rollover accidents are often recognized as catastrophic accidents and often lead to severe injuries ranging from spinal cord injuries to broken bones. Severe injuries are particularly associated with rollover accidents involving ejection.
At Bethune Law Firm, our Atlanta rollover accident lawyers are skilled at obtaining vital evidence useful to your claim and will make sure your financial concerns are taken care of by obtaining maximum compensation for you. If you were injured in a rollover accident, don't suffer in silence! The law could be on your side. For a free, confidential discussion about your rollover claim, call a car accident lawyer on 4048757800.
What Are The Top Causes Of Rollover Accidents?
Vehicles roll over for several reasons. However, the injuries that result are often severe or fatal. Below are the top 5 causes of rollovers:
High Speed
According to statistics compiled by the National Highway Traffic Safety Administration, rollover accidents are largely single-automobile accidents and occur predominantly at high speeds. When a vehicle traveling at high-speed trips on something like a bump or hits another, it may tip over or completely roll over, either ejecting occupants outside the vehicle or trapping them inside. Whichever the case, the results are bound to be devastating.
Rural Roads And Poor Vision
Many rollover accidents occur on rural roads and at night.
Intoxication
When drivers are intoxicated, not only are they impaired, but their reaction time is also slow and hence lack the judgment and skills to drive safely. Intoxicated drivers are more likely to make mistakes and drive recklessly, causing rollover accidents.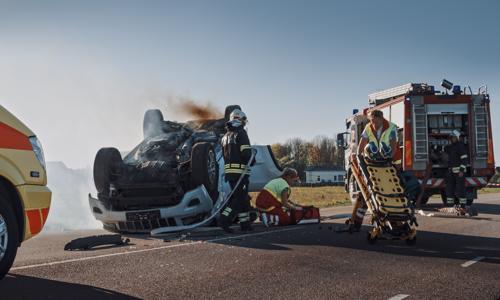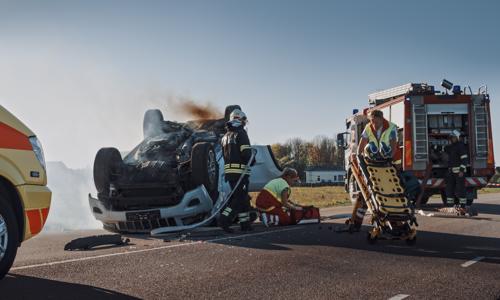 Vehicle Defects
Defective vehicle components, design, or manufacturing defects such as tire defects may make cars prone to rolling over.
Risky Maneuvers
Another top cause of rollover accidents is aggressive driving, such as risky maneuvers like swerving or taking turns at high speeds. Risky maneuvers like this often cause friction between the surface and the tires, causing the vehicle to tip to the side or completely flip over. This is especially the case for some types of vehicles such as vans and heavily loaded trucks.
Distracted Driving
Using a phone, falling asleep at the wheel, and other distracted driving forms can cause a driver to lose their concentration and control of the vehicle. Striking an obstruction on the roadway may throw off a car's center of gravity, causing the vehicle to flip over.
What Compensation Can Victims Collect?
Individuals who have been hurt in car accidents may gain access to a wide range of economic and non-economic damages. These often include missed wages, hospital bills, the costs of future treatment, and pain and suffering, in addition to others. If the victim can identify quantifiable damages that arose from the accident, he or she will be entitled to pursue them upon prevailing in a negligence claim.
What Is The Time Limit For Filing A Rollover Accident Claim In Georgia?
Lawsuits and claims arising from a rollover accident are subject to strict time limits. The statute of limitations or time limit for making an injury claim in Georgia is two years, regardless of the form your claim takes. If your rollover accident claim is not filed before this time limit expires, you will almost certainly be barred from filing the claim.
While there are some narrow exceptions, for example, if the injured individual is legally incompetent due to age or mental disability, the time limit may be extended. However, it's important to note that evidence disappears pretty quickly after an accident, and a lawyer's expertise can be invaluable in the days and weeks following your rollover accident. Besides, a lawyer will make sure you meet all set deadlines and explore whether other time limits apply to your claim.
Why Do I Need A Lawyer For my Rollover Accident Case?
There are many ways in which our Atlanta rollover accident lawyers can help your case and maximize your probability of recovering maximum compensation. Below are just a few ways our lawyers can help injured rollover accident victims and their loved ones:
Gathering evidence and records
Hire investigators and researchers to collect vital evidence useful to your claim
File your claim
Determine the value of your rollover accident claim
Deal with insurance companies
Negotiate a fair settlement
Identify all liable parties and lodge relevant lawsuit on your behalf
Litigate your claim
Ultimately, an Atlanta rollover accident lawyer advocates for your interests.
How Much Will A Rollover Attorney Cost?
At Bethune Law Firm, we understand just how financially devastating a rollover accident claim can be for you and your family. That's why we represent all our personal injury clients' interests on a contingency or no-win-no-fee basis – you don't pay any upfront fees, and you also get a free initial consultation. If our Atlanta rollover accident lawyers do not secure a favorable outcome on your behalf, you don't pay legal costs.
How Is Fault Determined In A Rollover Accident In Atlanta?
Atlanta follows Georgia's fault system and the modified negligence rule to resolve personal injury claims. This means that the party found by the jury or judge to be responsible for harm caused to the victim is liable for damages. Also, claimants can still recover partial compensation for injuries provided their degree of fault is below 49%.
When deciding to lodge a rollover car accident claim, you must speak to a lawyer to understand the nature of your case. This is because rollover accident lawsuits can either take the form of a personal injury lawsuit, a product liability lawsuit, or a premises liability lawsuit depending on where the rollover happened.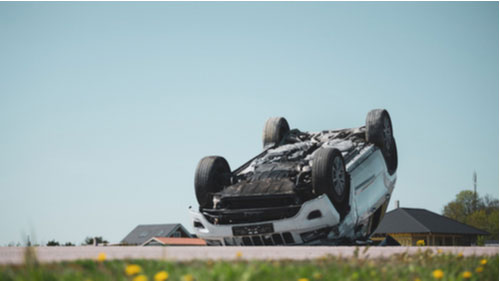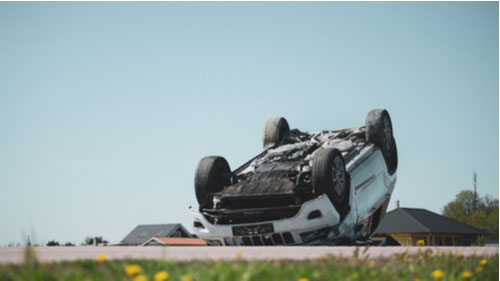 Product and premises liability lawsuits in Georgia can be complex and require the claimant to prove the defendant's negligence. To determine fault for premises and product liability lawsuits in Georgia, the claimant must prove the four elements of negligence:
Show that duty of care existed
Show that the defendant breached their duty
Show that the plaintiff suffered harm, injuries, or loss as a result of the defendant's breach of duty
Show that the injuries sustained or damages incurred were the direct results of the defendant's negligent actions
Defective Products May Also Cause Rollover Accidents
Some rollover crashes are single-vehicle accidents, meaning that a negligent driver was not responsible for the harm caused. However, a victim in this position is not left without recourse. Some rollover accidents are caused by defective products, such as tires, wheels, or automobile components. In these cases, an injured person may be able to file a product liability case to seek compensation for his or her harm. Ask an experienced attorney about the best cause of action for you to pursue.
Get Help From Experienced Atlanta Rollover Accident Lawyers Today!
A rollover accident claim can be an intricate legal process that most recovering victims may not be equipped to handle independently. The compassionate and skilled personal injury lawyers at Bethune Law Firm are tough, seasoned negotiators and litigators who will fight for the compensation owed to you every step of the way. Call us on 4048757800 for a no-cost initial consultation today!