When an Atlanta resident decides to open a small business, they take on a measure of potential liability for what happens to those members of the public while they are on the property. This includes liability for a slip and fall accident inside or outside the store. Legally, this is known as premises liability, and if you have had a slip and fall accident in an Atlanta, Georgia business, you can then file a personal injury lawsuit against the owner of that facility or business.
Slip and Fall Personal Injury Cases in Atlanta, GA
"Slip and fall" is a common term used in Atlanta, Georgia personal injury cases in which a person, appropriately enough, slips or trips and is injured in a fall while on property that belongs to someone else. These cases fall into the realm of premises liability cases in Atlanta, Georgia.
A business or facility that has a dangerous condition such as torn carpet, uneven flooring, bad lighting, stairs that are too steep or narrow, wet floors, and other hazards, are risks for slip and fall accidents. Other instances of these types of injuries happen due to cracked sidewalks, potholes in parking lots, or slippery spills inside or outside a business. Rain, ice, snow, or other hazards can also cause slip and fall accidents. So, is it always the fault of the business if you fall while on the premises? This is where the issue of fault arises.
Proving Fault in Premises Liability Cases in Atlanta, Georgia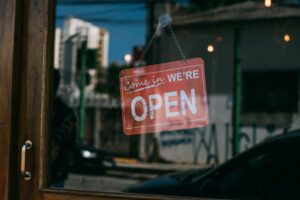 Anytime we think about liability, the question of fault arises. In premises liability cases, and in many other sorts of personal injury cases in Atlanta, Georgia, there is not a precise method for determining fault and legal responsibility. After a slip and fall accident, the case depends on whether the business owner or property manager took appropriate steps to ensure the safety of their clients or patrons. These can include "Wet Floor" signs, valid attempts to rectify a dangerous situation, and promptly cleaning spills. Another thing that will be considered is any carelessness on the part of the victim.
Most of the time, the injured party in a slip and fall personal injury case in Atlanta, Georgia needs to be able to prove that a dangerous condition caused the accident, that the business owner or property manager knew about the condition, and that no steps, or inadequate steps, were taken to rectify the condition. In short, if the property's controller either knew or reasonably should have known that their actions were placing people at risk, and proceeded anyway, that is negligence, and it demonstrates fault in a personal injury case in Atlanta, GA.
On occasion, the injured party in a slip and fall premises liability case in Atlanta may be able to show negligence by demonstrating that the owner of the property was in violation of a statute. For instance, building codes often specify where safety features such as handrails should be used, and determine things like the maximum incline of a ramp or proper height vs. depth requirements for stairs. If a customer experiences a fall resulting in an injury in an area that lacked appropriate safety measures, and the lack of those measures could be shown to have caused the injury, this information can be used for a valid premises liability claim against that Atlanta, Georgia business owner.
Who is Responsible in Premises Liability Claims in Atlanta Georgia?
In most slip and fall personal injury cases in Atlanta, GA involving commercial property, several people may be held responsible for injuries incurred by a customer. If the business' location is rented, then the owner and the business itself may both be named as defendants in an Atlanta, GA personal injury case. In this case, the business is regarded as a possessor of the property and has a duty to keep it safe for the public. Other responsible parties can include anyone who is responsible for the maintenance of the location, such as a property management company.
Consult with an Atlanta Personal Injury Attorney About Your Slip and Fall Case
If you have been injured in a slip and fall accident at an Atlanta business and you feel that the business owner, property owner, or other third party bears some or all of the fault in your injury, contact the law offices of Bethune Law today. Our experienced premises liability lawyers in Atlanta, Georgia will analyze your case and will be able to advise and assist you on how to move forward and help you recover compensation for your injuries.