Road hazards pose a serious danger to drivers. Whether trash from the back of a truck, a fallen tree, or an animal, unexpected obstacles in a vehicle's path leads to about 15,000 accidents each year in Georgia. If you were injured in a collision caused by a road hazard, Atlanta car crash lawyer Terrence R. Bethune may be able to help you seek compensation from those who were responsible. Often, a road hazard has developed as the result of someone's careless actions, and a successful negligence lawsuit can ease the financial burden of your recovery.
How Is Liability Proven?
A person hurt in an accident caused by road hazards may be entitled to compensation for any injuries if he or she can prove that the hazard was caused by the negligence of another person or entity. To prevail in such a claim, Georgia law requires the victim to show four elements:
The defendant must have owed the victim a duty of care;
The defendant must have failed to meet that duty by engaging in careless behavior;
Those careless actions must have caused the victim's injuries; and
The victim must have incurred actual, quantifiable damages as a result.
Every citizen of this state is required to behave in a way that avoids subjecting people around them to unnecessary risks. For example, in a typical car accident case, an injured person can submit evidence proving that the defendant was operating a vehicle in the victim's vicinity.
To prove the second element, breach, the victim must show that the defendant failed to live up to the required duty. In general, this means that the defendant did something that the typical person wouldn't have done in the same situation. An ordinary commercial driver probably would not overload a truck, since an overweight tractor-trailer not only violates trucking regulations but poses a serious risk to others on the road. Thus, debris that falls from an overloaded truck may suggest a breach of duty.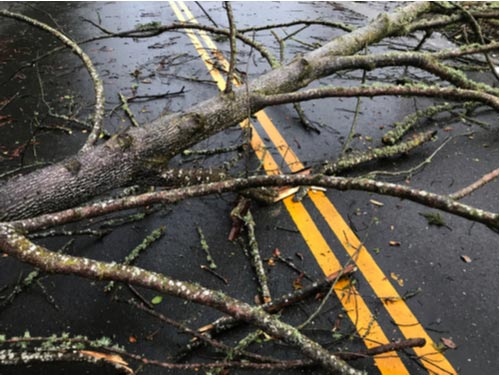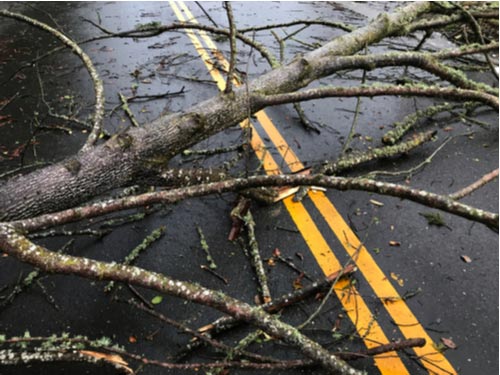 The defendant also must have caused the injury through the breach. This means that the victim's harm was not only foreseeable, considering the defendant's actions, but that it would not have happened if the defendant had used ordinary care. Moreover, any damages resulting from the accident must be quantifiable and compensable.
What Compensation Can a Victim Collect?
Someone who successfully proves all four elements of a negligence claim may be entitled to compensation for both economic and non-economic forms of harm. These can range from pain and suffering to medical expenses and lost wages. You must make sure to file your negligence lawsuit within the time window set by Georgia law, or you may be barred from collecting compensation for your injuries.
Who Is Responsible for Accidents Caused by Road Hazards?
In a case involving road hazards, one of the challenges may consist of identifying the defendant responsible for the danger. A piece of wood that fell out of a truck may be the responsibility of the truck driver or trucking company. A fallen tree blocking the road could be the fault of the city tasked with keeping the road clear. A loose animal may have escaped because the owner was negligent in keeping it gated. Tracking down the liable party may be a difficult task, and an experienced attorney can help you confront it.
Contact an Experienced Lawyer for Your Georgia Accident Case
Because of the unique challenges of road hazard cases, crash victims should seek legal guidance on how to pursue compensation. Georgia personal injury attorney Terrence R. Bethune has helped ordinary people hurt in car accidents since 1997. He can evaluate your case, identify defendants who hold liability, and tirelessly work to hold them accountable. To see if The Bethune Law Firm can help you, call 4048757800 or fill out our online contact form.