A tractor-trailer can pose a significant danger if its cargo is overweight or unevenly distributed. The truck can lose control and careen into other vehicles. For this reason there are laws in place that limit truck loading weights to a safe limit. Since 1997, tractor-trailer accident lawyer Terrence R. Bethune has been fighting for Atlanta residents injured by negligent trucking companies. If you were hurt in a truck wreck, a knowledgeable attorney can get to the bottom of the situation and try to hold commercial drivers or companies accountable for their careless actions.
Protect Your Rights By Filing a Negligence Lawsuit
Georgia law protects drivers, passengers, and other people harmed by the negligence of a truck driver or trucking company. In many accident cases, the victim files the case against the company that owns the vehicle and employs the trucker. If the cause of the wreck was cargo loaded negligently by a third party, that third party may be named a defendant as well.
To have a viable case, the victim must be prepared to prove four elements. First, the defendant in the case must have owed the injured person a duty of care. In Georgia, most people are expected to behave in a way that avoids an unreasonable risk of harm to others. This is called the reasonable-person standard, and it applies to truck drivers, trucking companies, and any third parties in the industry, such as those that might load trailers for transport.
This duty can be breached — the second element — by unreasonably exposing others to a hazardous situation. For instance, if a trucking company exceeds federal standards that limit the weight of a tractor-trailer to 80,000 pounds, it would likely constitute a breach of duty. Cargo that is not distributed property in the trailer can cause a truck to be unstable. This likely would also fall short of the appropriate standard.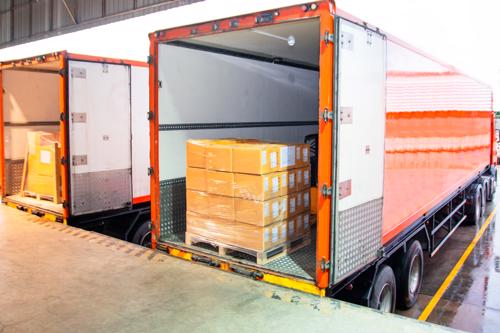 Moreover, the victim must prove causation, which has two parts. The first is called causation in fact, which exists if the injuries would have been avoided had the defendant not breached the duty of care. The second part, legal causation, is established if the harm was a foreseeable consequence of the defendant's behavior. Causation, in fact, is a question for the jury to determine, and legal causation is addressed by the court.
The final stage of a negligence claim consists of identifying quantifiable damages that can be compensated. These can reimburse the victim for expenses associated with the accident, including lost wages and past and future medical bills. They may also compensate for physical pain and suffering, emotional distress, or other injuries that are more subjective.
Get a Free Consultation With A Truck Accident Lawyer
Truck accident cases are often challenging to litigate. In the aftermath of the collision, an experienced lawyer can investigate the causes of what happened to determine who holds liability. If you were hurt near Atlanta by a negligent driver or company, truck wreck attorney Terrence R. Bethune can help you seek the compensation you deserve. To schedule a free consultation, call 1-800-INJURED or fill out our online contact form.