A broken bone can be anything from a major inconvenience to a debilitating and painful injury. Victims suffering from bone fractures or broken bones caused by the wrongdoing of another person have a right to seek compensation. Atlanta personal injury lawyer Terrence R. Bethune founded The Bethune Law Firm to help injured Georgia residents seek the compensation they deserve.
Bone Fractures Happen Often to People of All Ages
Broken bones are one of the most common injuries across age groups. For older people, hip fractures caused by falling are extremely common. These painful injuries sent about 258,000 people aged 65 and older to the hospital in 2012, according to the Centers for Disease Control and Prevention. But it is not just older people who can suffer from broken bones. Falls, which often cause bone fractures, are the leading cause of child injury in the United States.
Victims of Wrongdoing May Seek Compensation in Court
Broken bones can be caused by a number of factors, including:
An injured person may choose to file a negligence lawsuit against the person or entity responsible for the injury. Georgia law requires that a negligence victim prove that the defendant breached a duty that he or she owed to the victim and that this breach caused the victim's injuries.
People injured in pedestrian accidents often file negligence lawsuits as well. As is true for other victims of vehicle accidents, an injured pedestrian first must prove that the driver of the car that injured them breached their duty of reasonable care. For example, a driver who ran a red light, a driver who was texting, or a driver who failed to yield all have likely breached this duty. If that carelessness caused the driver to hit and injure a pedestrian, the driver can be held liable.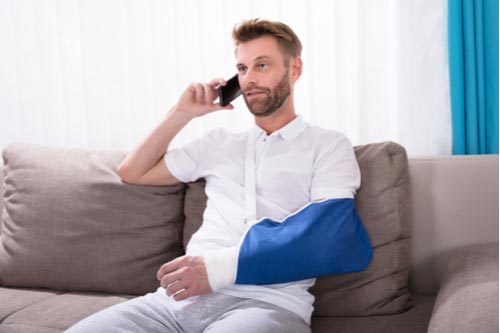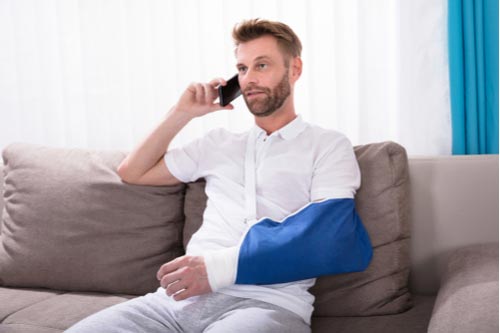 Meanwhile, a person who suffered a broken bone from a slip and fall that occurred on the property of a business could file a premises liability claim. To get damages, the victim must prove that the owner of the property knew or should have known about a dangerous condition on the property and failed to repair it. The victim also must prove that the dangerous condition caused his or her injury.
A slip and fall case shows how these rules work in action. A Georgia grocery store may be liable if it failed to clean up spilled food, for example, and a customer broke a bone after slipping and falling on the floor.
Bone Fracture Victims May Collect Damages
Defendants found liable in a vehicle accident or premises liability case may have to pay damages to the victim. These damages reimburse the victim for the objective costs of his or her injuries, including lost wages, medical bills, and physical therapy costs. In addition, if the victim endured pain and suffering or emotional distress, he or she can potentially be compensated for these subjective injuries.
Contact an Atlanta Broken Bone Lawyer
Georgia law allows people who have suffered a broken or fractured bone to hold those responsible for their injuries accountable. If you have suffered a broken bone, protect your rights by hiring an experienced Atlanta personal injury attorney. Since 1997, Terrence R. Bethune has helped the victims of negligence and other wrongdoing collect the compensation to which they are legally entitled. To schedule your free consultation with Bethune Law Firm, call 4048757800 or complete the online contact form.