A car accident can cause long term financial, physical, and emotional harm. Georgia law allows people who have been harmed by a negligent driver to seek compensation for their injuries. Since 1997, Georgians injured in car accidents have trusted Atlanta car accident attorney Terrence R. Bethune to help them recover compensation from the responsible parties. If you have been injured in a car accident resulting from a driver's failure to maintain a lane, Bethune Law Firm can help.
Lane Violators Put Other Drivers At Risk
The lanes painted on Georgia roads are necessary to keep safety on the roadways. When a person fails to maintain his lane or improperly changes lanes, it can cause serious accidents. Georgia Department of Public Health data shows that in Fulton County alone, there are more than 13 accidents every day caused by drivers who improperly change lanes. These drivers can be held accountable for their actions if they cause injuries to other motorists.
People Injured by a Negligent Driver Can File Suit
Georgia law gives people harmed in a car accident the right to seek compensation for their injuries by filing a lawsuit. Usually, this takes the form of a negligence lawsuit, which requires the plaintiff to prove:
The defendant — usually the other driver — owed a duty to the plaintiff;
The other driver breached his duty; and
The plaintiff's injuries were caused by the other driver's actions.
All drivers have a duty to drive reasonably. A driver who makes an unsafe lane change or recklessly drifts out of his lane causing an accident has likely breached this duty. If the unsafe lane change or the failure to maintain a lane causes an accident that injures another person, the injured victim can collect compensation from the responsible driver.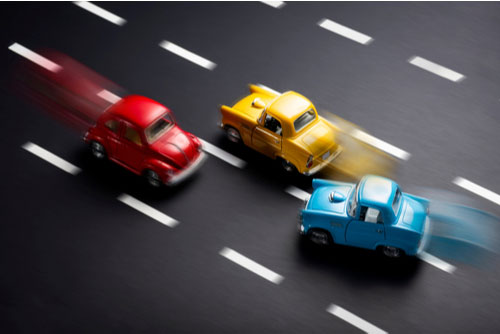 In Georgia, a person is not prohibited from filing a lawsuit if he was partly responsible for the accident. A plaintiff may collect a portion of his damages as long as he was less than 50 percent at fault for the accident. Be sure to ask an experienced attorney about your case if you suspect that you may have played a part in causing your accident.
Negligent Drivers May Be Liable for Damages
If a person injured in a car accident files a successful lawsuit, the defendant will be liable to the plaintiff for damages. Economic compensatory damages reimburse the plaintiff for the injuries that are easily quantified, such as vehicle damage, past, and future lost wages, and past and future medical bills. Noneconomic damages compensate the plaintiff for injuries that are harder to assign an exact value to, such as emotional distress or pain and suffering.
If, for example, the defendant negligently failed to maintain a lane because he was drunk, the jury may find it appropriate to award punitive damages. In cases where the consumption of drugs or alcohol played a part, Georgia's punitive damages cap does not apply. Ask a lawyer if you have questions about the damages to which you may be entitled.
Trust Bethune Law Firm With Your Failure to Maintain a Lane Crash
People injured by a negligent driver have a right under Georgia law to hold the negligent driver responsible for his actions. If you have been injured by a reckless driver, call 4048757800 or fill out our contact form to schedule your free case evaluation with Atlanta car accident lawyer Terrence R. Bethune.